Crossing Channels Series 2, Episode 6: Is technology changing our behaviour?
Interdisciplinary answers to today's challenging questions
Rory Cellan-Jones and leading experts Maria Kleshnina, Daniel Nettle and Amy Orben discuss the drivers of cooperation and how online and offline environments are impacting human behaviour.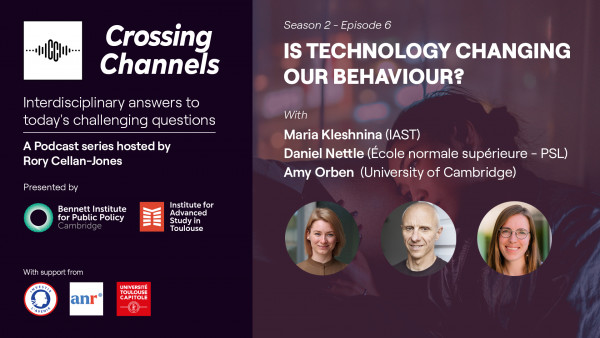 This episode is hosted by Rory Cellan-Jones (former technology correspondent for the BBC), and features Maria Kleshnina (IAST), Daniel Nettle (L'École normale supérieure - PSL) and Amy Orben (University of Cambridge).
Crossing Channels is jointly produced by the Bennett Institute for Public Policy, University of Cambridge, and the Institute for Advanced Study in Toulouse (IAST) this podcast series brings you interdisciplinary perspectives on significant challenges facing society today: more episodes