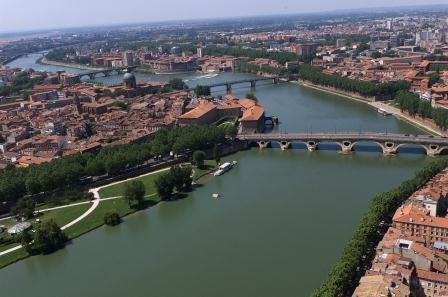 Toulouse, the capital of "Midi-Pyrénées", is the leading city in the south-west of France
4th largest city in France with 426,700 inhabitants. Toulouse, a very attractive city, welcomes more than 10,000 new arrivals each year.
2nd largest university city in France: 110,000 students, 3 universities, 14 graduate schools... Toulouse is a particularly lively city.
A privileged natural position, and a hub of communication: 150 km from the Mediterranean, 250 km from the Atlantic Ocean, 110 km from the ski resorts in the Pyrenees.
Internationally renowned skills in the sector of research:
N° 1 in Europe in the aerospace and space industries, embedded electronic and computing industries (Competitive cluster: Aerospace Valley)
N° 1 nationally in the sector of biotechnologies, microbiology, sciences and life technologies, Canceropôle (Competitive cluster: Cancer Bio Santé)
2nd largest research cluster in France with more than 400 laboratories and 110,000 researchers: economy, new information technology, health sector,….
An important historic and cultural heritage: the Capitole, the Jacobins Cloister, the Basilica of St. Sernin, the Bemberg Foundation, the Canal du Midi…
A lively cultural and artistic lifestyle
An exceptional quality of life: gastronomy of the South-West, rare architectural heritage... and 2,027 hours of sunshine on average per year!
Crédit photo: ville de Toulouse. Patrice NIN